Meet the Tuminator
London Daily Mail | March 29, 2005
By Barry Wigmore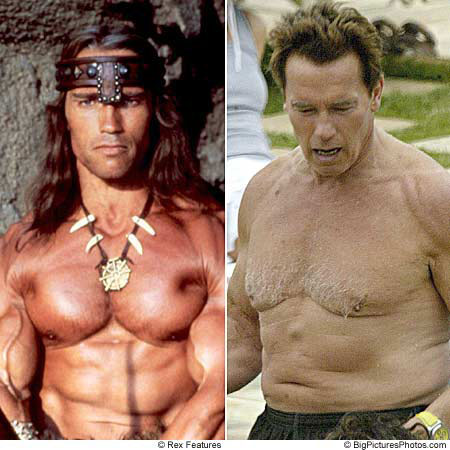 His bulging muscles made him a five-times winner of the Mr Universe title.
It took Arnold Schwarzenegger years of pumping iron to build the body that won him stardom in movies such as Conan the Barbarian and The Terminator.
But it has taken just two years of good living as the governor of California for the 57-year-old's shape to go somewhat belly-up.
Schwarzenegger's hint of a spare tyre where lean muscles used to ripple was evident when he took a dip in the Pacific off Maui, one of the Hawaiian islands, where he is on holiday with his wife Maria Shriver and their four children. Earlier, he had gone to church with his family, then
was given a neck massage on the beach by his TV journalist wife, who doesn't seem to mind his extra pounds.
Friends say the Austrianborn former strongman has never fully recovered his once-startling physique since an operation to repair faulty heart valves in 1997.
Critics blame the cardiac problems on his admitted use of steroids while bulking up for bodybuilding contests 20 years ago.
Schwarzenegger, who is known to enjoy fine wine and big cigars, denies this - and points out that steroids were new and not illegal when he used them.